"Building community through reuse" is a phrase that is used often at the ReBuilding Center. At any time, it has a variety of different meanings, from expanding our class offerings to donating materials to other local nonprofits. Most recently, "building community through reuse" meant hosting six groups to build a bench for the Boise Eliot Native Grove that represents the engagement of women in trades, the LGBTQ community, underserved youth, the houseless, and in-recovery community.
Over the past few months, community members of Self Enhancement, Inc., Q Center, 4th Dimension, Portland Youth Builders, Hazelnut Grove Houseless Village, and Oregon Tradeswomen spent time learning and building in the ReBuilding Center shop. Lead Instructor, Sam Serling-Sutton, designed the frame of a hexagonal bench and facilitated the groups over multiple sessions in the shop. Like many of our Education Program students, this experience allowed for those who have not spent much time in a wood shop to learn in an inclusive and fun environment.
Each of the six groups was taught how to use a variety of carpentry tools in order to build out the hexagonal frame and finish each bench section to represent their communities. The groups gleaned reclaimed materials from our Store to complete each unique side of the bench—from knobs to cabinet doors to desktops. The bench exudes creativity and is an inspiring example of the collective power of people and existing resources to build community through reuse.
In collaboration with the Boise Eliot Native Grove, the bench was installed around an oak sapling during an Earth Day celebration and work party on Saturday, April 20. Located near the corner of North Ivy Street and North Gantenbein Avenue, the Boise Eliot Native Grove is an ever-transforming slice of nature in the middle of our city. Make sure to visit the Grove and enjoy the bench for yourself!
From the first build days to installation, we enjoyed every step of the way. A huge thank you to all six community groups and to Boise Eliot Native Grove for making this community-building project a reality!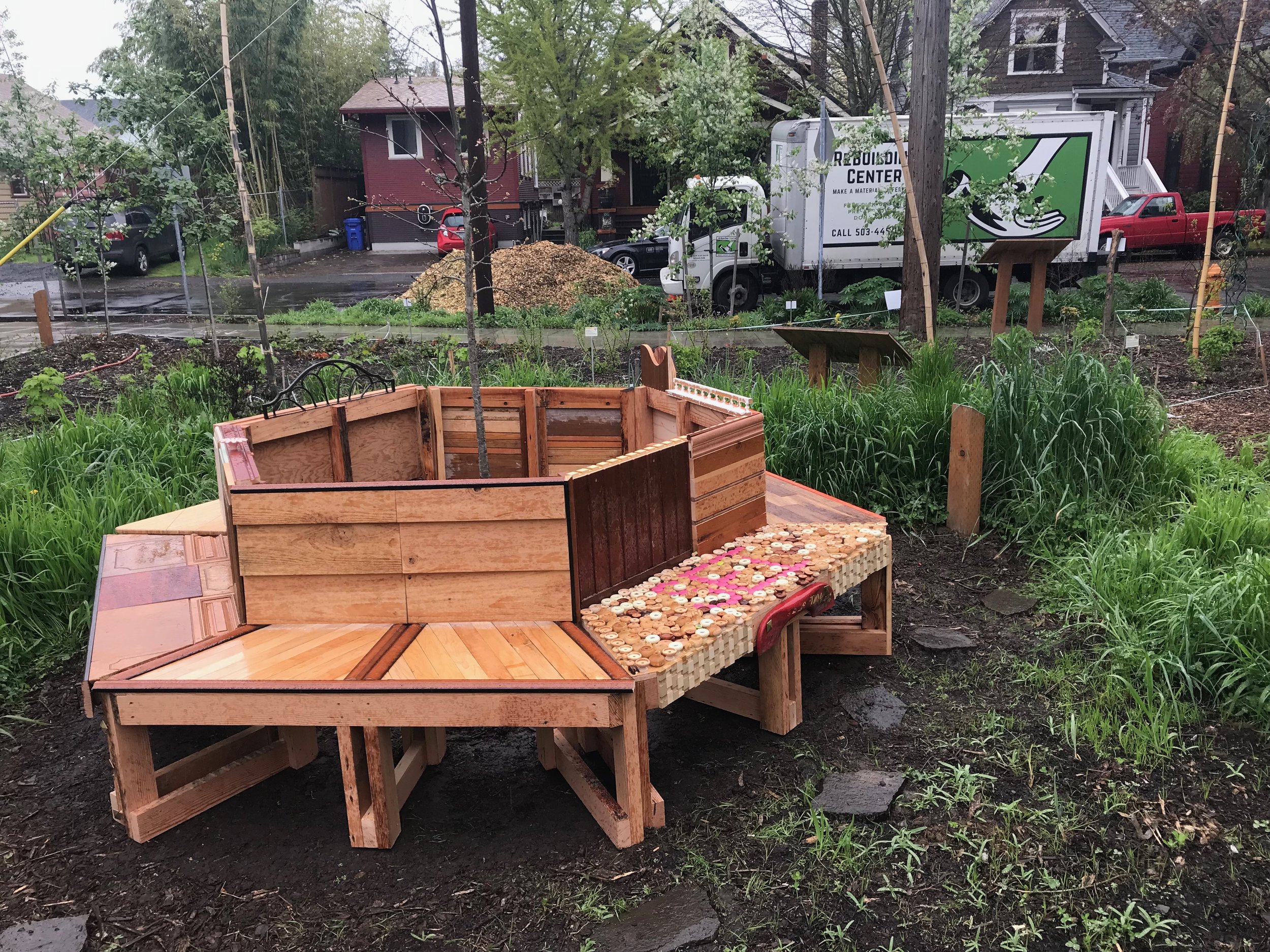 This project was sponsored by Columbia Bank.